Review: THE VICE GUIDE TO TRAVEL
Vice Magazine is known for covering stories in the most disturbing parts of the world. In this documentary, the Vice crew set out to Chernobyl, Pakistan, Paraguay, Rio, Beirut, Congo, and Bulgaria to document their search for guns, radiation bombs, drug dealing dancers, five legged bears, and dinosaurs.
PLO BOY SCOUTS IN BEIRUT
The footy for this starts off pretty nice. Little kids trying to skateboard in the streets, and then cuts to Shane Smith, Vice Co-Founder talking about a group called Al-Aqsa Martyrs' Brigade thats main function is getting kids to go to Israel and blow themselves up. There, it's well respected to blow ones self up for his/her country. As disturbing as that seems, the children have learned songs for their dedication on suicide bombing.
Take note on the lyrics three children sing about killing all Israelians while their parents sit next to them and clap.
Note to self: Don't ever move to Beirut.
BULGARIAN DIRTY BOMBS
"So that's how you set off a DIRTY BOMB made out of cessiam or some radioactive material. In New York it wouldn't kill that many people, maybe a couple thousand people but it would erradiate all of Manhattan."
-SHANE SMITH
Shane Smith and crew go to Bulgaria to speak with a man named Ivanhoff (think Smith in America) about an article Vice Magazine did on a French Journalist who claimed to have purchased a warhead on the black market. They meet up with an American journalist who first wrote about the warhead to help them find Ivanhoff (the man responsible for selling warheads). Then found him Sunny Beach doing a construction project for bin Laden. The project? To build a model type Beverly Hills. Ivanhoff agreed to do the interview as long as his face was blurred and voice distorted. He claimed the dirty bomb he had was buried in his mothers garden, and would not take them to it. Ivanhoff claims it all comes down to money and Capitilism. You can buy anything you want: women, drugs, guns, cars, and a bomb that can destroy earth. Oh, and women there talk about drinking the blood from Americans.
THE RADIOACTIVE BEASTS OF CHERNOBYL
"We're here in Chernobyl, which is apparently 600 times worse than hiroshima. They only guys that survived where the firemen 'cause they were bombed when they were putting out the fires. It's the same as the doctors in Hiroshima. They lived because they got drunk, so we've been drinking, haven't we Pella?"
-SHANE SMITH
Shane and Vice Writer Pella Kagerman set out to Chernobyl, the place where the biggest nuclear catastrophe took place, to find what has been said to be animals that were exposed to massive amounts radiation, thus deforming their normal physical characteristics. They take a 29-hour ride from Berlin and get really really drunk. They arrive in Chernobyl and load up on alcohol and meet with their guide, Yuri Tatarchuck, who guides them through the now very little populated Chernobyl in search of "changed" animals.
Watch as the drunk Smith tries "hunt" down one a spotted animal.
THE GUN MARKETS OF PAKISTAN
Suroosh Alvi, Vice Co-Founder gets a small militia together in Pakistan and travels to find the biggest illegal arms market. When they get there, they find a wide variety of guns to buy, meet a man with no tongue that builds bullets from scratch, and practice shooting from a rooftop, all while children run the streets below.
THE SLUMS OF RIO
After seeing City of God over a thousand times, I became obsessed with poverty strickened communities and The Slums. The people of Rio are pretty much condemned with no form of law enforced, so the only way most of them survive is theft or turning to selling drugs.
Trace Crutchfield, Vice Correspondent, goes to Rio, roams the streets, parties, eats bbq, and interviews Gherarado Milanesi, a local journalist. Gherarado describes a danced called Baile Funk.
In this dance, drug lords get out aggression with violence and fighting. Very little dancing is involved. It's not supposed to be filmed (since people get the hell beat out of them), and they once caught a famous Brazilian TV reporter with a hidden camera and punished him severely. He was burned alive.
Note to self: If ever visiting Rio, DO NOT go to a dance party.
THE LAST DINOSAUR OF THE CONGO
"There was a whole in my stomach. It kept staring at my feet. I thought my face was eating at my own face, and I thought of eating my own feet. I thought I was fucked, and I knew I was fucked while I was fucked, laying there going, 'shit, this is going to be really bad.'"
-DAVID CHOE, VICE CORRESPONDENT
David Choe heads out to the Congo to find a dinosaur featured in the National Geographic Magazine. The Congo is claimed to be the only place to have survived the last ice age, and interviews with locals, missionary's, and guides confess to have seen this dinosaur.
This guy is really funny, and I decided this when he is introduced by playing the drums in a run down motel room with three African Americans women dancing naked behind him, and later introducing his three guides as Phillip Seymour Hoffman, Ben Kingsley (Sexy Best performance), and Richard Grieko.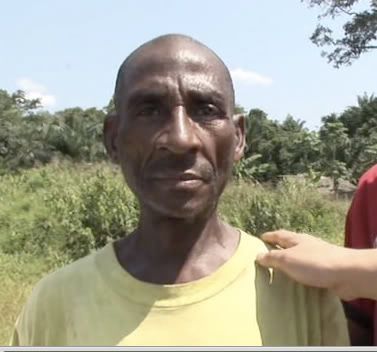 With much hesitance, the U.S. Embassy approves David to fly in to the Congo and scout for his rumor read (say that five times fast) dinosaur. While searching, him and his guides get lost, hungry, and delirious. Somehow they managed to find the village they were searching for.
This ends in a ritual that one must go through to see the dinosaur, which consists of massive amounts of alcohol intake and possible some heavy drugs, I couldn't tell.
You can purchase this documentary super cheap here.