This week's DVD releases – July 21
Every Tuesday a brand new batch of DVDs are released for your buying and renting pleasure. That means every Monday, I pick the best out of the box office barrage and let you know what's worth the effort. This week offers a few television selections, the typical B-horror flick, and two movies you may or may not have seen, but definitely should have.
CORALINE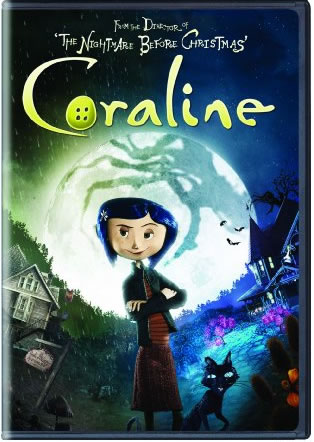 A wonderful stop-motion 3D movie from the guy who brought you A NIGHTMARE BEFORE CHRISTMAS about a girl who wishes her family was something better and gets that wish. We had a contest to win a copy last week, so you know it's something we already approve of. If you weren't lucky enough to win one, go get your own copy as soon as you can.
WATCHMEN - Director's Cut


There was so much hype and controversy surrounding this movie from the day filming started that you had to have lived under a rock to not know about the CITIZEN KANE of graphic novels about a group of has-been superheroes trying to solve the murder of an old ally. The director's cut adds an extra 20-something minutes to the already extremely long run time but bails out on the extras. Buy it if you're a die hard fan, rent it if you liked it. The Deluxe fanboy version will be released in December, filled with all kinds of extras for you to ogle over.

PUSHING DAISIES: Seasons 1 and 2


When the first season of this show aired, I absolutely fell in love with it. Oh, the quirky! Oh, the songs! Oh, Kristin Chenoweth! Sadly, PUSHING DAISIES was one of the shows that suffered a large drop in viewership when it decided not to bring back any more new episodes after the writer's strike was resolved. Once season 2 started, a great number of people simply didn't care about it anymore, myself included. I only saw a couple of episodes from the second season, but what I did see seemed to take the cute level of quirky from the first season, and multiplied it to a level that left a weird taste in my mouth. The show still received critical acclaim, but the ratings just weren't there. It didn't get picked up for a third season and the finale of the show never really aired. Fear not! That last episode is featured on the two-season set that you can pick up starting tomorrow.
ROBOT CHICKEN: STAR WARS 2


Seth Green's hilarious stop motion, adult-friendly cartoon takes another stab at the STAR WARS universe. Not really much to say about it, except it's funny and has tons of quotable lines. It's a definite must have for fans of the show.
MESSENGERS 2: THE SCARECROW


This is one of those B-horror flick sequels that's really a prequel. I never even heard of the first movie, which is really the sequel to this one, but apparently now there's a sequel...I mean prequel. If you're into watching straight-to-DVD horror flicks like I am sometimes, you should add this to your Netflix queue, like I did. Keep an eye on my Twitter account in the next few days and I'll let you know what I think of it.
There are a whole slew of other DVDs that come out tomorrow. You can check them out at Rotten Tomatoes.
Other articles that you might like: